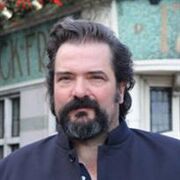 Charlie Fletcher is a British author and screenwriter. He is best known for being the author of the three books of the Stoneheart Trilogy: Stoneheart, Ironhand and Silvertongue.
Biography
Edit
Charlie Fletcher was born in 1960. He studied English literature in school, and then he found work with BBC. After that he went to California to work in screenwriting. It was in Los Angeles that Fletcher met his wife. He currently lives in Edinburgh, Scotland with his wife and two children.
As well as being the author of the Stoneheart Trilogy, Fletcher is also the author of the children's novel Far Rockaway (2012). In May, 2014, his book The Oversight was published. This is the first of three books in his new Oversight Trilogy. He is also known for a number of screenplays.
Ad blocker interference detected!
Wikia is a free-to-use site that makes money from advertising. We have a modified experience for viewers using ad blockers

Wikia is not accessible if you've made further modifications. Remove the custom ad blocker rule(s) and the page will load as expected.